This page is dedicated to setting up JT-Alert-X

If you have not installed WSJT-X go to my page now and do it first, JTAlert is of no use without it. You should have downloaded and installed JT-Alert by now, if not go to their homepage and do it now. I also downloaded HamApps sound and HamApps Call sign database. I would recommend you go to the HamApps web page and review all the info their.
You will want to visit DXLab site Getting Started with K1JT modes using WSJT-X, JTAlert, and DXLab
The last version to support Windows XP and Vista was version 2.12.0.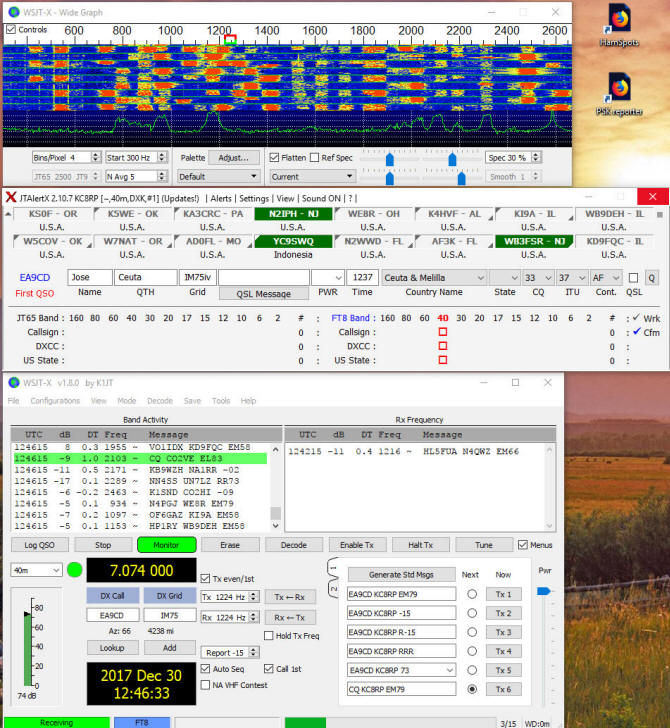 JT-Alert with WSJT-X running.

JT-Alert screen by itself. There are many ways under the View menu to configure the display.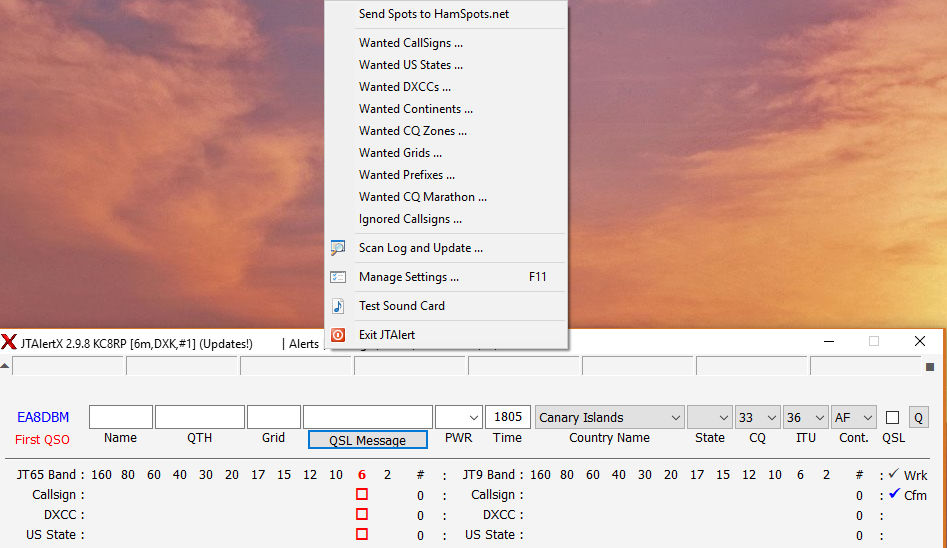 The settings menus has many options to choose from, everyone has a different need. I intend to show how I configured my system. Make sure you click save on each screen. Also note at the top left of the JTAlert screen if you Updates that means either a new version of JTAert or ham database or both, more below.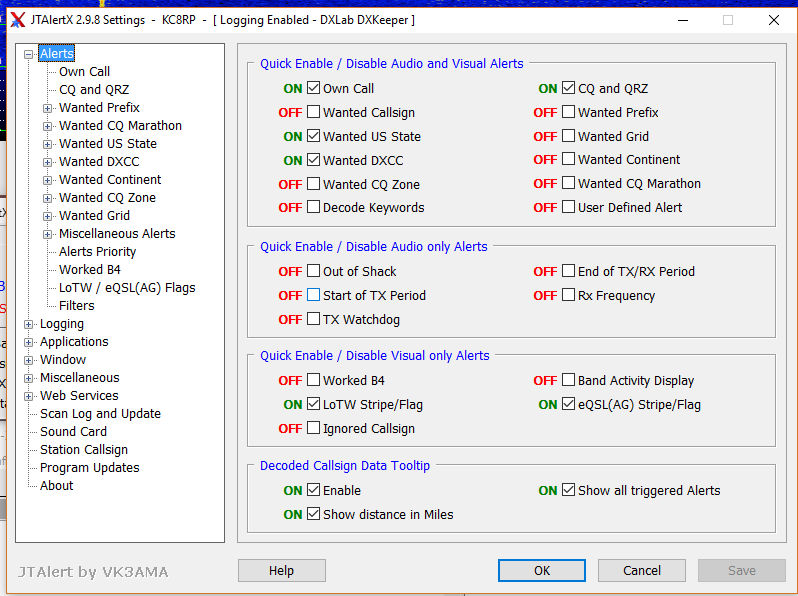 This is the manage settings box, there is a lot to choose from. Put a check in the box on the Alert page when you want to be notified of an event. I have checked Wanted US State, Wanted DXCC and CQ and QRZ calls. I also want LoTW & eQSL stripe/flag. You then go to the appropriates boxes and configure your needed alerts.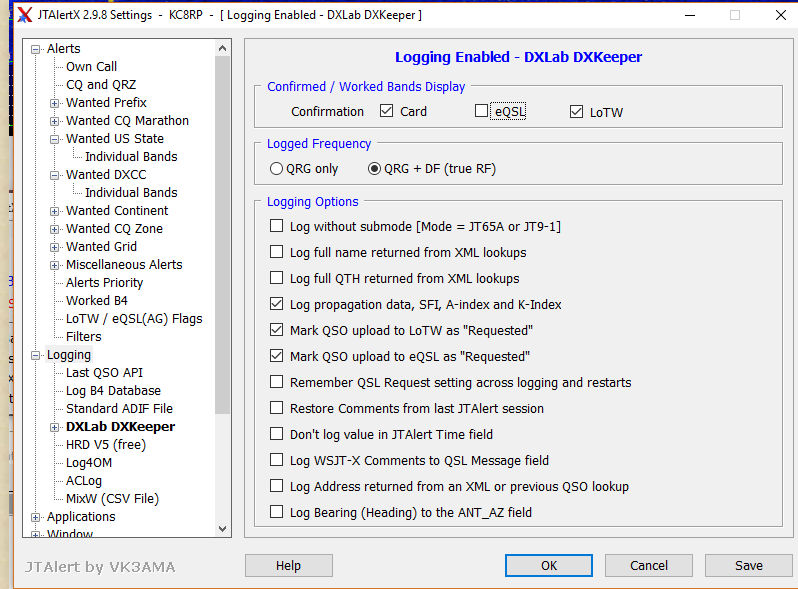 The Logging setup is important for automatic interface with software. I have set my logging to mark QSO upload as requested.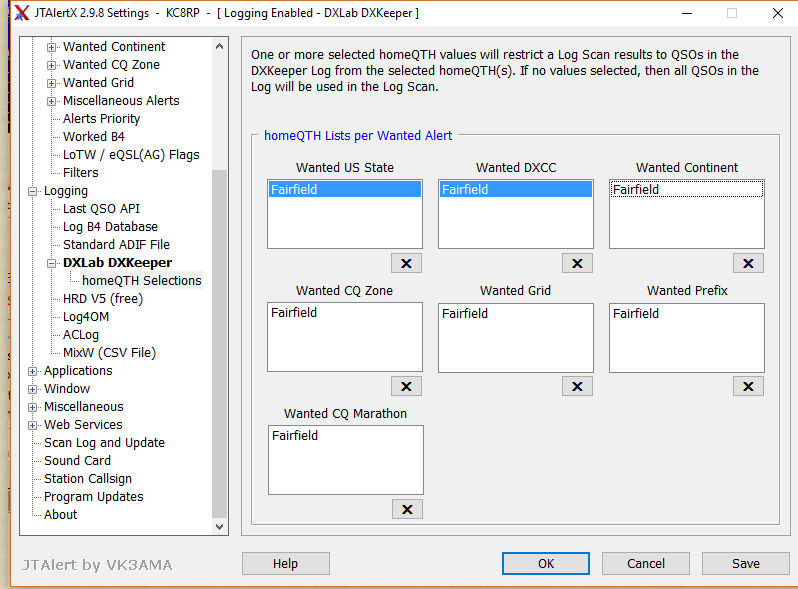 The DXLab log will only be scanned for my Fairfield QTH, in my case the only one.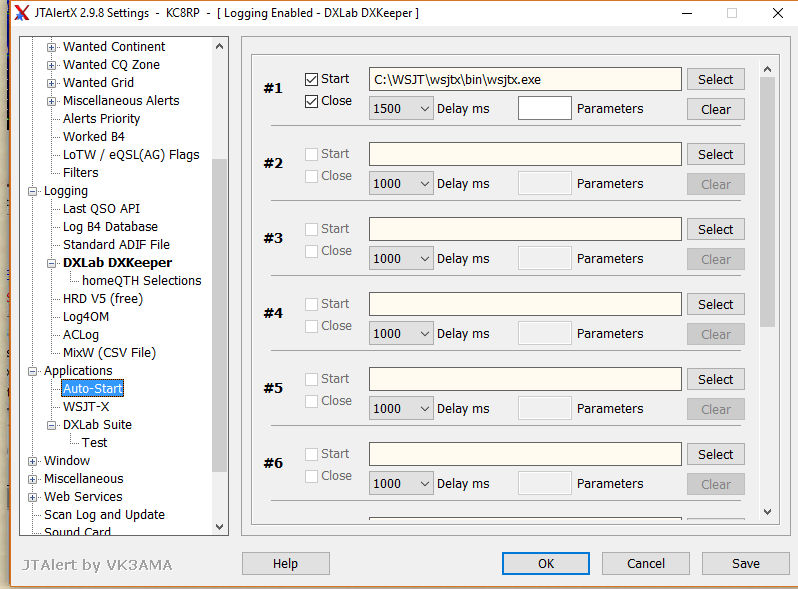 I set wsjt-x to start and close with JTAlert.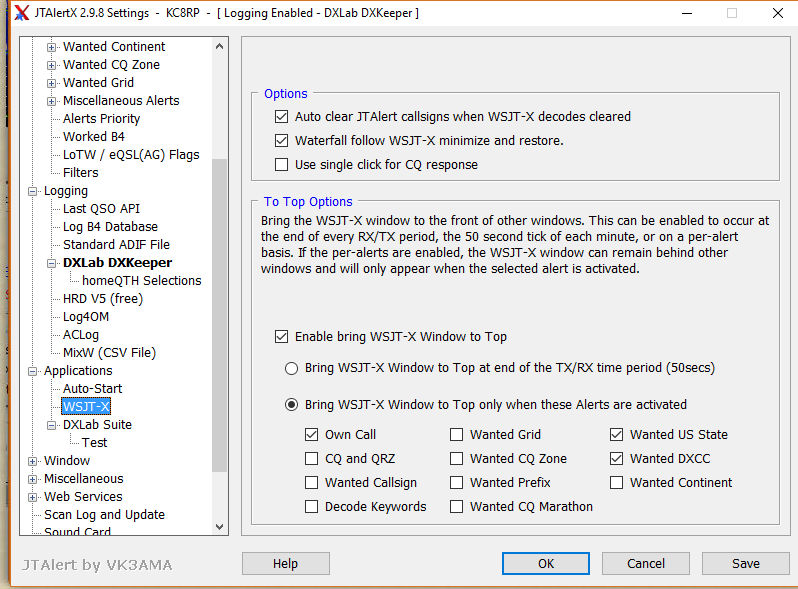 I think everything here is self explanatory.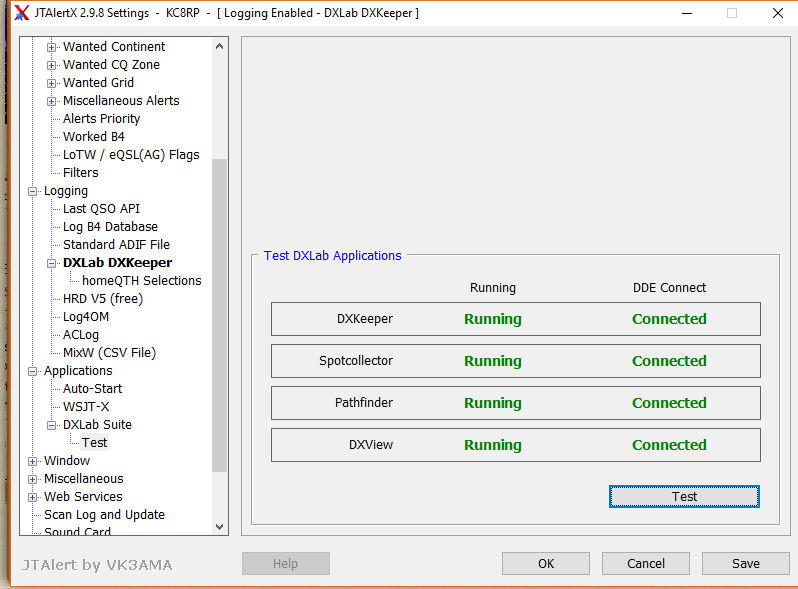 This box helps to assure proper connection to the DXLab software. Running and DDE connected are blank until you click test, the results should show as above.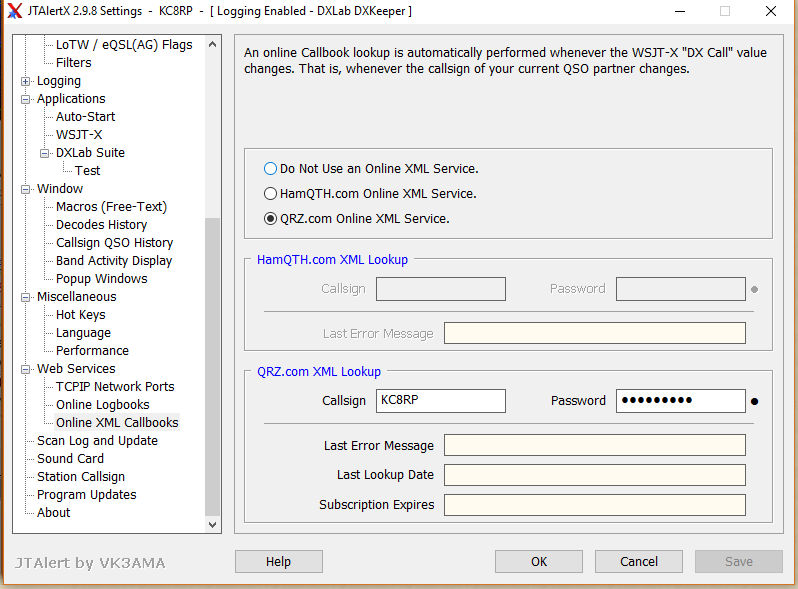 Since I am a QRZ XML subscriber I activated this section of the setup.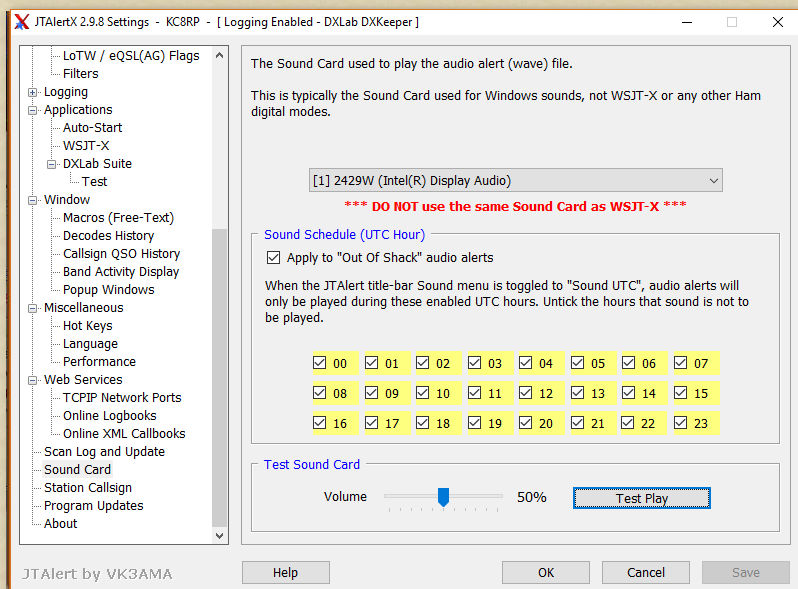 Under Sound Card make sure you select your desktop sound system not the WSJT-X sound card. Check the hours okay to alert, the volume and then test it.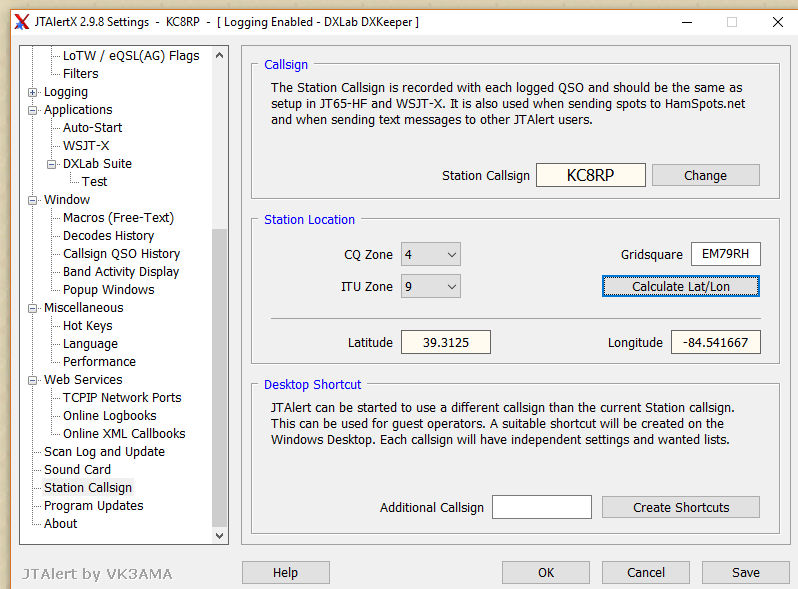 This is pretty self explanatory, call sign and station location but very necessary.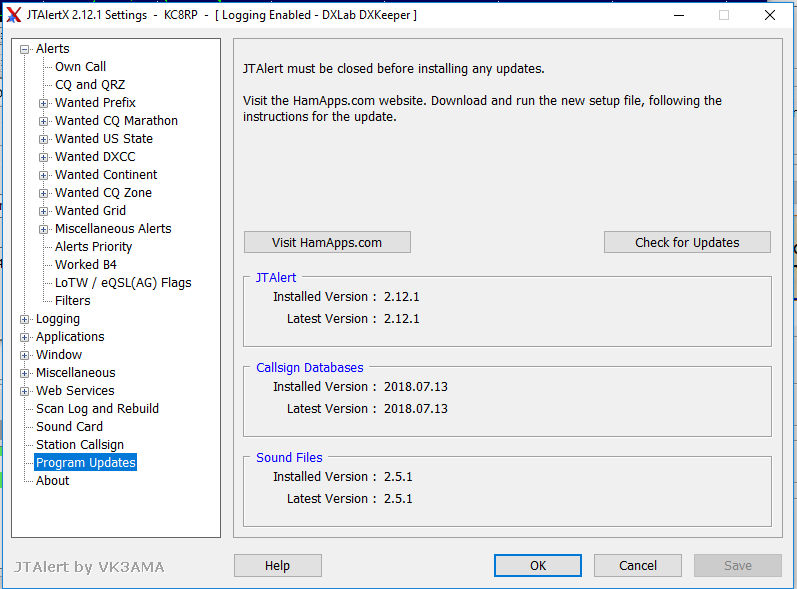 This page shows the version of JTAlert you are running and the latest version, same for the callsign databases. Click Visit HamApps for the latest upgrades. You need to shut down JTAlert to upgrade. I recently noticed that JTAert is complaining because files are missing, probably due to your anti virus checker. If you are running Windows 10 and Windows Defender go to the control panel and click on Update and Security then click on Windows Security then Viruses & threat protection then Virus & threat protection settings then scroll down to Exclusions and click on Add or remove exclusions. In this screen you will add the directories you was to exclude. When you click on Add an exclusion select Folder and it will open up file explore for you to navigate to the excluded folder. The folder to exclude will be C:\Program Files (86)\HamApps. From this point on every time you upgrade you will be okay and Windows Defender will inform you of excluded folders.
By-the-way, if you receive the notice about missing files, first do the exclusion of the folder mention and than reinstall JTAlert.
The remaining areas I did not cover and were left in default or not used.
Back to Digital Software and Interfaces