This page is dedicated to JT-65 & FT8 using WSJT-X software

It would be a good idea at this time to go to the WSJT web page and review all the info their.
Here is a decent You Tube video of WSJT-X
You will want to visit DXLab site Getting Started with K1JT modes using WSJT-X, JTAlert, and DXLab
I will focus on FT8 since it is the hottest mode at this time. I would also read the FT8 operating guide, and FT8 DXpedition mode, these are must reads.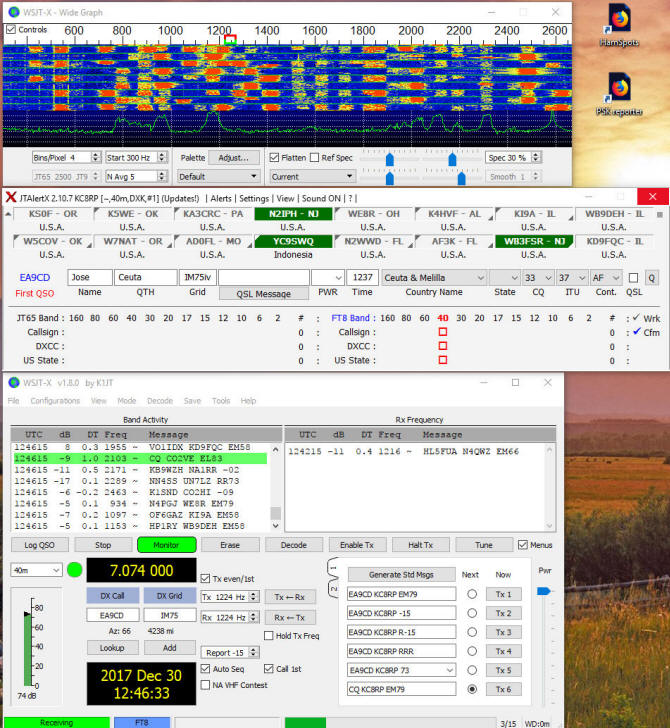 The above image shows WSJT-X and JTAlert running. I will show the setup of this software using my ICOM 7600 and DXLab software.
Download the software and install both WSJT-X and JT-Alert. You will also need an accurate time source, your computer clock is not accurate enough, I use Dimension 4. For JT65 and FT8 your clock must be within 2 seconds of the received stations clock and J9 is 1 second. If your are not in synchronization your software will not decode.
The screen shows the apps running. The WSJT-X waterfall, JTAlert and the WSJT-X main screen. I choose to dock JTAlert between my waterfall and decoding screen but it can also be placed at the bottom
Because of the speed of FT8, also called the fast and furious, you may not have time to manually respond to CQs so it is advisable to check the Auto Seq box. If you call CQ and have Call 1st checked than the software will respond to that call first. Call 1st is not good if you are hunting DX.
Notice that there are 2 ICONs to the right of the waterfall above, Ham Spots and PSK reporter, both are handy aids, more on these later.
Notice that my signal is peaking around 74 db which is a bit too high, it should be around 40 to 60. Adjust your RF gain to the appropriate level.
Another useful piece of software to monitor your signal level is a digital sound meter. If you right click inside the level meter you will get the setup screen, any grey or black area will work.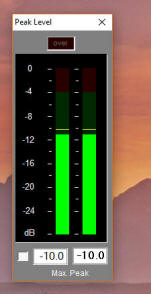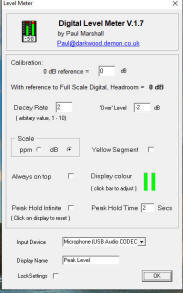 I am showing a close up of the waterfall to show the optimum bandwidth display. Physically readjust the waterfall with your cursor at the left or right edge to show the entire spectrum used by FT8 and JT65. It is suggested to go from 100 to 4000 or as wide as your filters allow, especially for DXPeditions. My Icom 7610 allows 3500 which served me well with the KH1/KH7z Baker and Howland islands.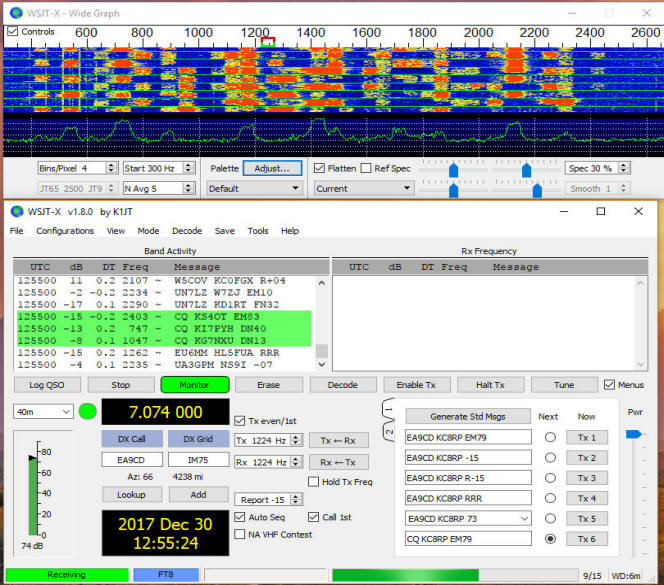 This screen is to show what WSJT-X looks like without JT-Alert. I am now using version 1.91 but the display is the same.

This screen shows JT-Alert without WSJT-X but not usable without it. I have set an option in JT-Alert to start WSJT-X when it starts.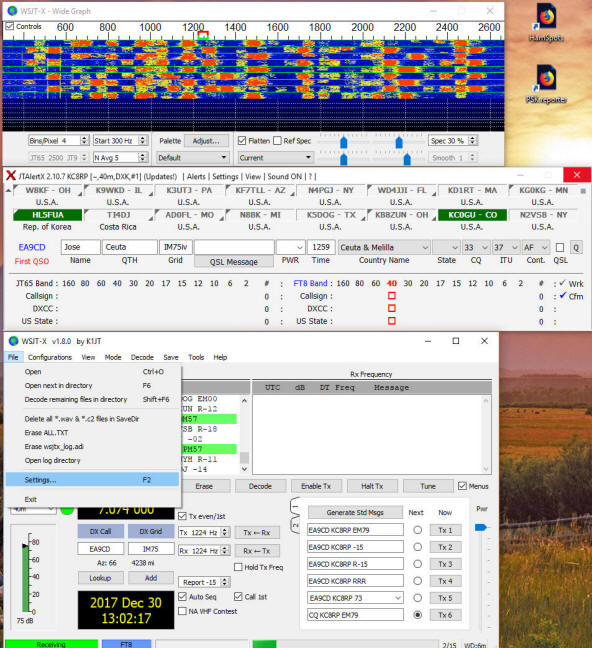 Go to file and click on settings in the drop down box.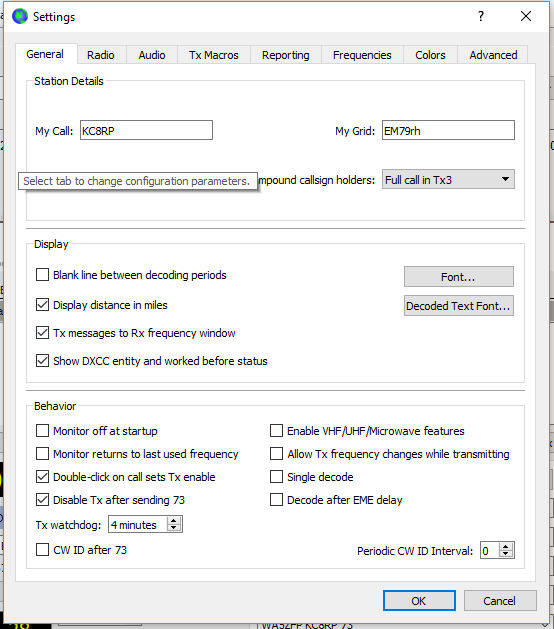 In General settings put in your call and location.
Check the boxes you want active, under behavior I have only 2 checked.
I like to make sure transmit is disabled and the watchdog is set to 4 min.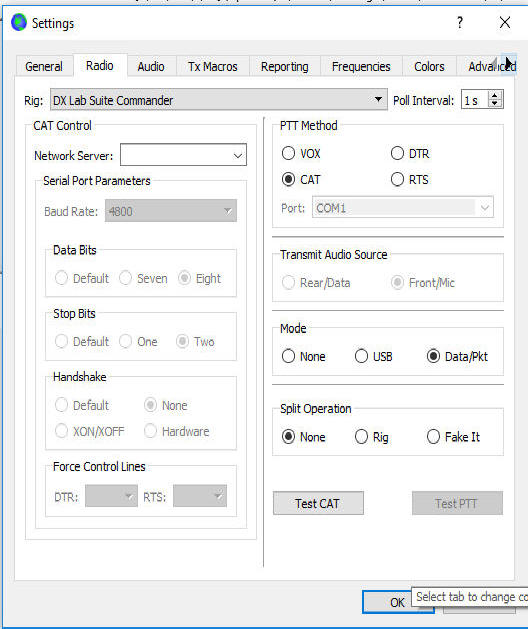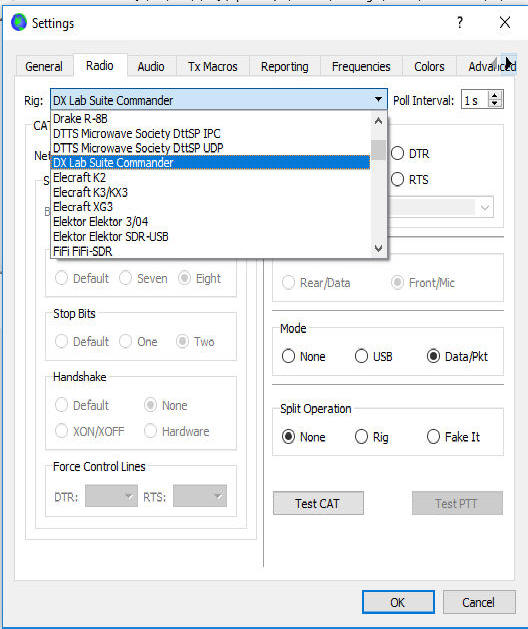 Very important, make sure you check Data/Pkt or you will not have any luck transmitting.
Under the Radio tab you will set your radio or in my case DXLab as control. As you can see from the partial list there are many more options.
I am only going to describe my setup with DXLab, it works well for me .
You should take note of the Split Operation box. The majority do not use split, I don't see a need for it but I have seen one DX consistently use split. If you click none and you try to work the DX you will not be successful, I have since changed to split.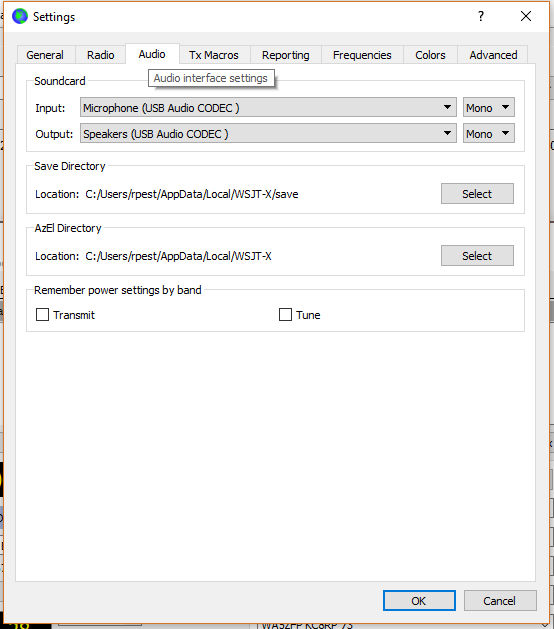 Set your audio input and output here. These CODECs were created when you plugged your ICOM 7600, 7610, Elecraft K3 etc. in to the USB port on your computer.
There can be multiple CODECs on your computer, be sure you are selecting the correct ones or there will be nothing on your display.
One big failure of getting FT8 working is failure to set sound levels, discussed later. If you hear your transmission in your computer speakers and no power output you have not selected the proper CODEC. Microsoft windows will often change back to the default sound system especially after a new software install, be warned!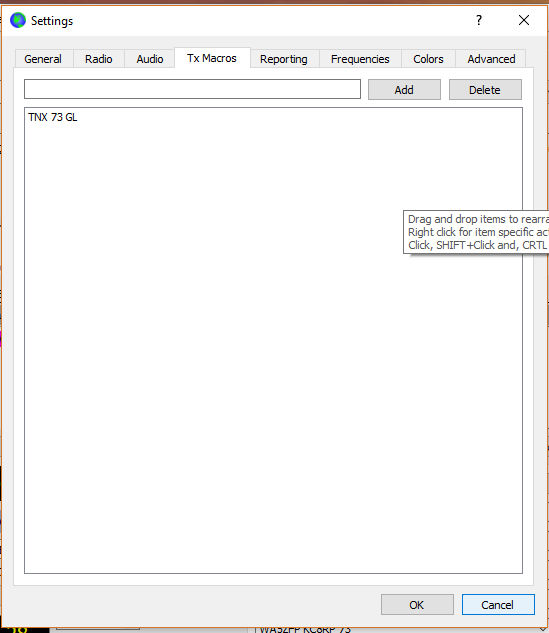 The TxMacros tab is were all you macros go, mine are simple.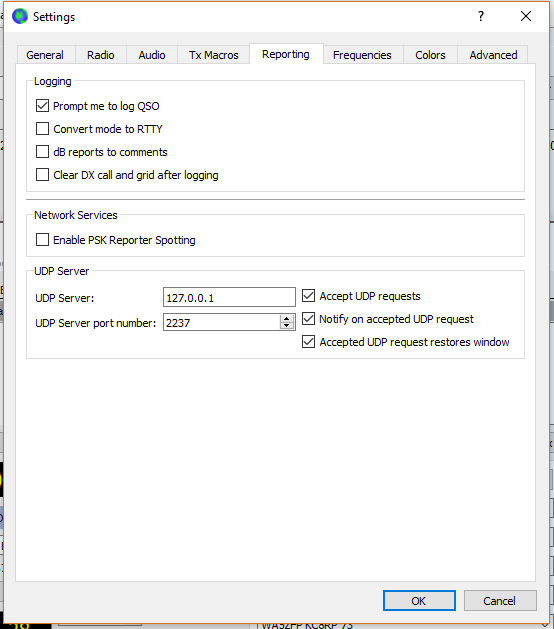 I set my app to prompt logging the QSO, easy to forget when chasing DX.
Make sure sure the UDP server is checked and boxes are checked.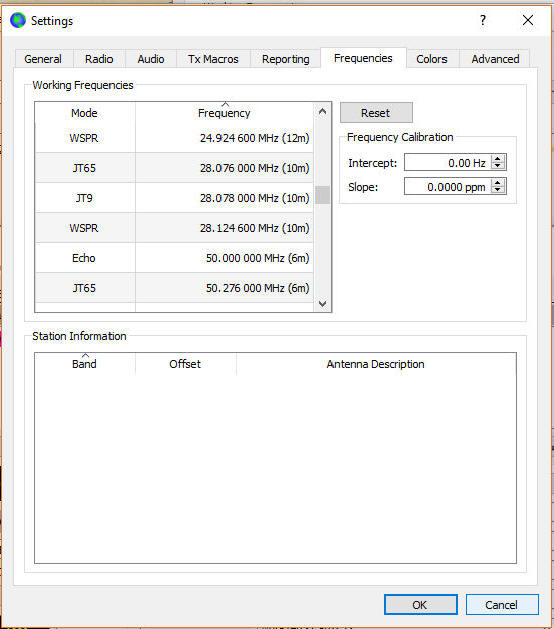 Shown above are a partial list of frequencies used my the different modes.
I mainly use FT8 on 6M but it is used on almost all bands. You will also need to insert DXPedition frequencies when they are used. DXPeditions stay away from the default frequencies mainly because the transmissions would overwhelm and limit general use.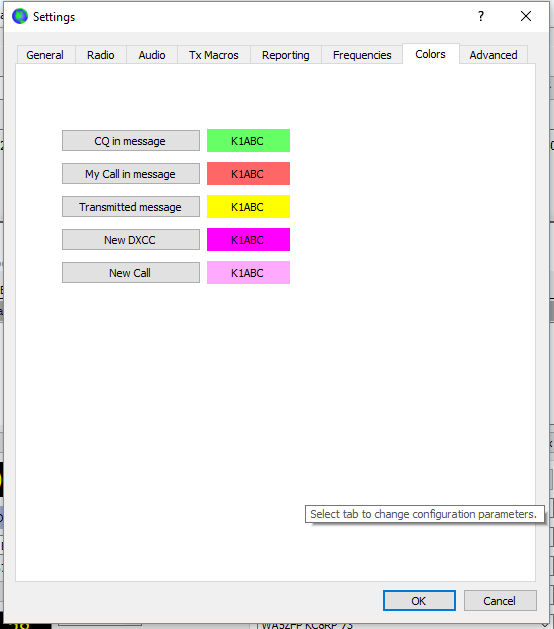 Colors let you know what is important about the decoded station. If you are setup properly this can be very helpful , especially a new DXCC.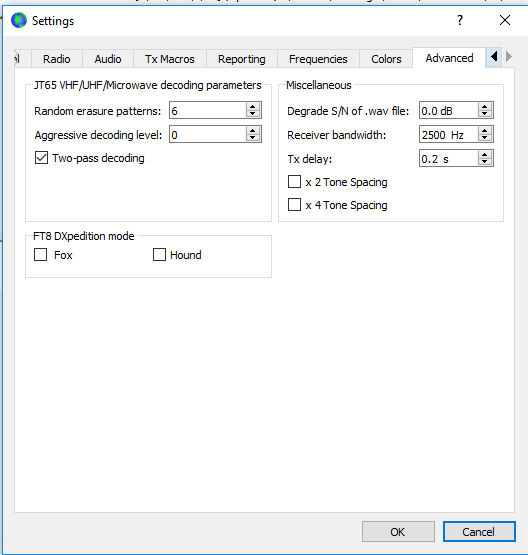 I left this screen with default settings. Starting with version 1.91 the FT8 DXpedition mode was included, I used during KH1/KH7Z Baker and Howland islands. Please read the DXPedition and FT8 guides listed at the top of the page. The Fox (DXpedition) and the Hound (you who are chasing them) takes a bit getting use to since there are only 2 exchanges, you keep transmitting until he answers with report that is it.
This ends the setup of WSJT-X, next you need to setup your sound and JTAlert-X.